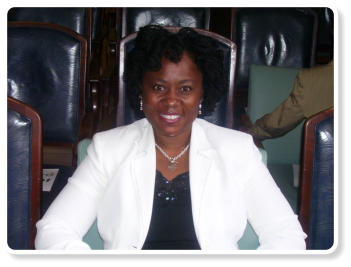 Dr. Dorn J.B. Walker is a licensed ordained minister and co-laborer with Christ as she ministers the Gospel of God's Kingdom. She attended the Bride of Christ School of Ministry and trained in a ministerial capacity under the leadership of Apostles, Dr. Benjamin Rucker, and Dr. Angela Rucker. Also, she attended the Empowerment Theological Institute and Bible Seminary where she received a Doctorate in Divinity and a Ph.D. in Leadership Ethics. 
Since 1987, Dr. Walker has made tremendous contributions to the Body of Christ as a Servant Leader who served in various ministerial, executive, and leadership capacities at several churches in the U.S. Virgin Islands, Washington, D.C., Maryland, and Pensacola, Florida. She currently partners with her husband Apostle John Walker, Jr., Founding Pastor of the "Walls of Salvation Church Ministries" in Pensacola, Florida where she serves as an Elder, Prophet, Evangelist, and Vice President and Executive Manager of the nonprofit's daily church operations. 
In 1995, Dr. Walker authored her first book "Life After Loss:  A Journey into Wholeness" which remained on the publisher's consistent seller list for more than 5 years. She later authored, "The School of True Worship and Effectual Fervent Prayer" curriculum book, the "I am Poster and Worship Journal" and is the artist of the "I AM" (Spoken Word) audio. She has co-authored several ecclesiastical training manuals including" the "Outreach Evangelism Manual," "Essentials:  Your New Life in Christ," and the" Leadership and Empowerment Training" Manuals used to train and equip leaders for over 10 years. She is the founder of the "Oil of Joy Ministry," an outreach to those with broken lives, including prisoners and AIDS patients and is the Founder and President of "This is S.H.E. Global." The (Salvations & Healings through Evangelism) Global Movement which provides mentorship and empowerment to women (daughters) called to Ministry and leadership.
Dr. Walker is graced with the 5-fold ministry mantles of the Prophet and Evangelist; however, she often flows in the Apostolic. Yet, she stays humble and open to the move of Holy Spirit and refuses to limit any move of God in her life. Her unique prophetic evangelism approach to ministry encompasses her call to minister to the complete person—spirit, soul, and body (I Thessalonians 5:23). This ministry includes preaching, evangelism, and street witnessing, ministering at Women's Conferences and conducting wholeness workshops, motivational seminars, and retreats. Dr. Walker publishes the good news of the Gospel, and ministers through praise and worship dances. She is a member of the International Dance Commission of dancing preachers. She was also trained in Dr. Edward Smith's counseling approach to healing from emotional pain.
Dr. Dorn J.B. Walker is a native U.S. Virgin Islander and a graduate of the University of the Virgin Islands where she completed a bachelor's degree in Accounting.  Additionally, she completed graduate school course work in Public Administration through the U.S. Department of Agriculture's Graduate School in partnership with the American University in Washington, D.C. She is the wife of Pastor John Walker, Jr., and the mother of three precious children—Tesa, Joshua, and Josiah–son-in-love, Thomas Fabyan, Grand Princess, Azaria, and Grand Prince, Steuart.